Relieve your taste buds with authentic home cooked Indian, Mughlai, Continental, and Rajasthani cuisine. 
In the splendid kitchens of Marwar, cooking and serving meals was more of an art than a chore. Hundreds of cooks were employed in the pompous palaces and forts with emphasis on keeping their recipes close guarded secrets - with some being passed on to their children and some being lost forever. Our restaurant offers mouth-watering delicacies and brew with a fine dining experience.
The multi-cuisine gourmet includes lip smacking Mughlai, South Indian, Rajasthani, Chinese, and Continental cuisine that are served with the emphasis on fresh ingredients. Guests can relish traditional Rajasthani delicacies that are specially prepared by cooks who have served the royal family through the generations.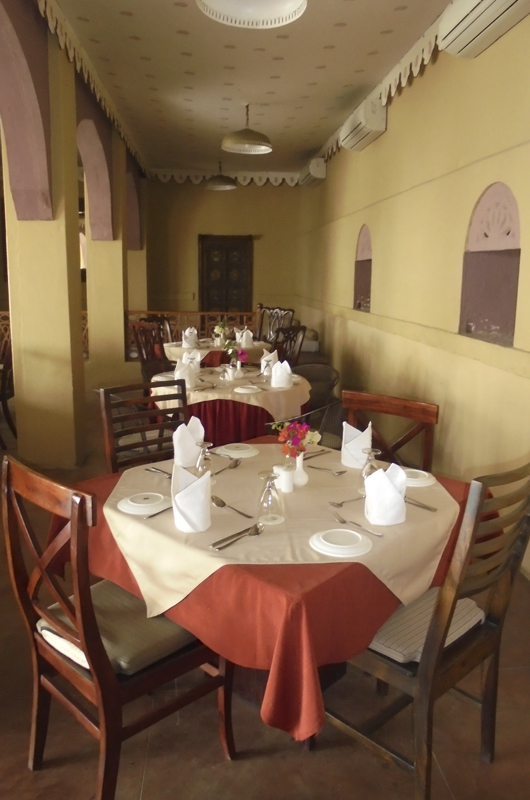 Restaurant Terrace
 
The open-air restaurant that overlooks the Fort walls was once the Durbar Hall of the Thakurs where many ceremonial banquets have taken place. The speciality restaurant serves lip-smacking cuisines that leave you spoilt for choice. A quiet, candlelight dinner can be an exquisite experience where the sounds of folk music mingle with the warmth of the hospitality.
Bajot Dinner or Sit Down Dinner
Dine like the Marwar Rulers. Comfortable settle yourself in the restful mattresses, bolsters, and cushions and eat from a Thali (traditional plate). The Thali's are kept on a Bajot (low tables) and served by traditionally attired attendants. In this dinner, dishes are served and brought to you. For a second serving, you do not need to go anywhere because the attendants would come serve you.
Marwar Restaurant 
A quiet but exquisitely decorated indoor restaurant serves exceptional quality and mouth watering multi cuisines, which can accommodate 90 pax. The Marwar Restaurant recreates a royal Indian dining experience with traditional decor.

Private Dining
Dine with your beloved at one of the three terrace locations of the Fort. Overlooking various parts of the village the view that each of the private dinner places provide is breathtaking and a once in a lifetime experience on its own.
Restaurant Courtyard
The open-air restaurant courtyard adjoins the restaurant and overlooks the beautiful and serene village. Guests can enjoy traditional music and dance performances through out the evening.
Bar
The elegant beautifully redesigned lounge is the perfect venue to enjoy a drink and revive the memories of the Thakurs and the Raj. Enjoy the 16th century ambience that is complimented with the 21st century.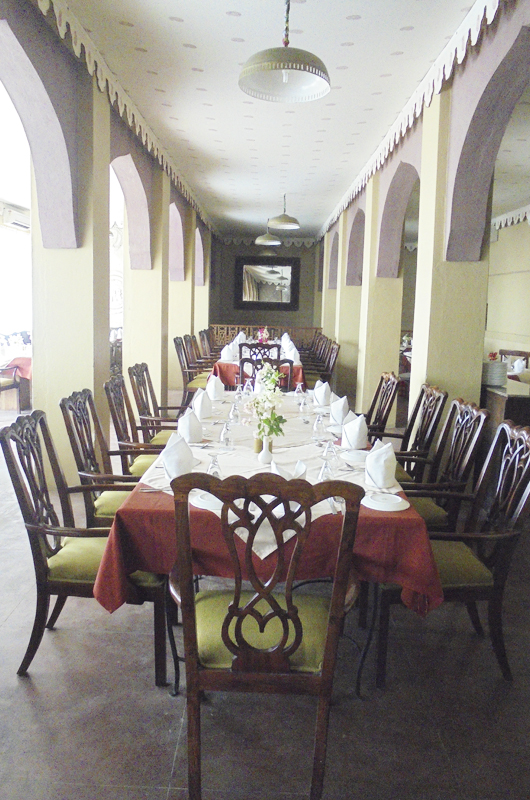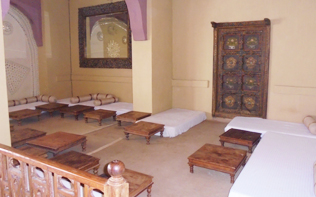 In-Room Dining
If tired from travelling or unwound by a pampering spa visit, guests may prefer to relax in their rooms for a meal. The in-room dining is always a lovely option.
Royal Picnic Breakfast
Royal picnic breakfasts can be arranged on the outside ramparts of the Fort.